Pääsin Emmyn lopputöihin pidennyshiusmalliksi tänään Unikaan. Vihdoin mä sain heivattuu Rapunzelin pidennykset roskiin (älkää koskaan ostako sitä kautta pidennyksiä!!) ja laittaa päähän kunnon B Longin hiusta, joka on laadultaan miljoona kertaa parempaa.
Today my friend Emmy who is studying to be a hairdresser had her final projects and I had a chance to be a hair extension model. Finally I got rid of my Rapunzel of Sweden hair (never ever buy that hair!!). Now I have a quality B Long hair which is million times better.
Vasemmalla näkyy pidennysten alkuperäinen väri ja oikealla väri Emmyn värikäsittelyiden jälkeen. Emmy käytti pidennysten värjäykseen värimaskeja, jotka on erityisen hyviä pidennysten värjäykseen. Emmy luki mun ajatukset ja löysi juuri sopivat sävyt mulle. Tykkään tästä vähän tummemmasta blondista niin kovasti!
On the left the original colour of my extensions and on the right the colour after the hair has been dyed. Emmy used colour masks which are good for dying hair extensions. I think Emmy read my thoughts because the colour is more than perfect for me.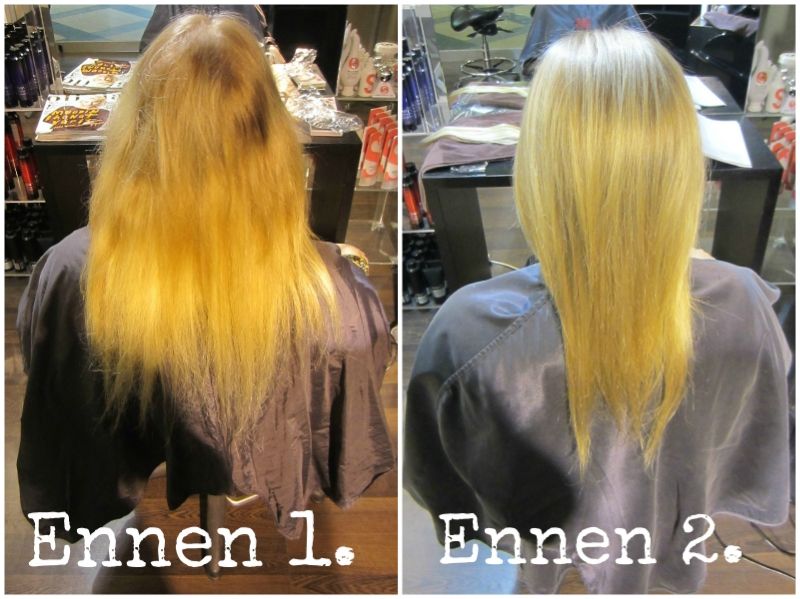 Ennen 1:
Lähtökohta vanhoilla Rapunzelin pidennyksillä. Huh huh mikä reuhka.
Ennen 2:
Ilman pidennyksiä. Kuvasta ei ehkä tule esiin, kuinka paljon hiuksista lähti paksuutta.Tässä kuvassa hiukset on myös sävytetty uusiin pidennyksiin sopiviksi, mutta ei vielä leikattu.
Before 1:
With Rapunzel of Sweden hair still on. Looking so bad.
Before 2:
Without the extensions, just my own hair. We also dyed it to match with new extensions but didn't cut my hair yet.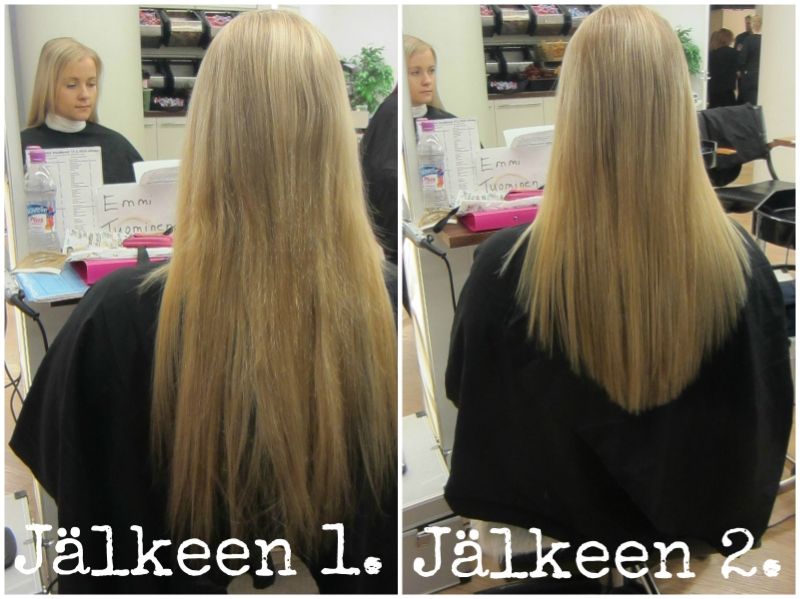 Jälkeen 1:
Uudet pidennykset päässä. Pituus oli vähän turhan pitkä, joten seuraavaksi Emmy leikkasi pidennykset sopivaan malliin.
Jälkeen 2:
Uusi look on valmis! Värit täsmää täydellisesti omaa hiusväriä.
After 1: New hair extensions on. The lenght was far too long so we cut and shaped it again.
After 2: Say hello to my new hair! Colours are matching perfectly to my own hair.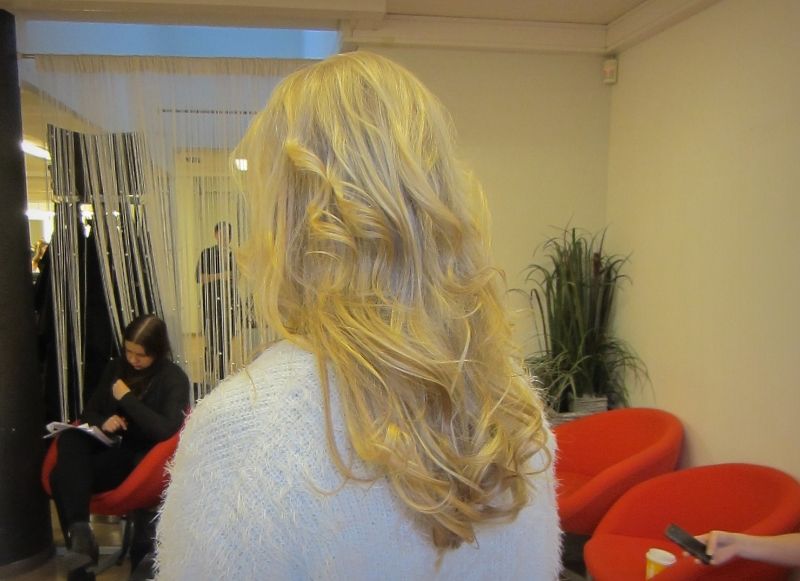 Kampaukseksi laitettiin vähän kiharaa, joka sai jäädä tarkotuksella levottomaksi. Lopputulos on täysi kymppi! Väri on kivan eläväinen ja luonnollinen. Mitäs te tykkäätte?
Emmy styled my hair and added some wild curls. My new hair is so percet and I'm so happy now! The colour is natural and lively. What do you think?