Viime perjantaina tehtiin ehkä reissun paras teko: vuokrattiin pyörät ja pyöräiltiin rantaa pitkin. Pyörävuokraamokin löytyi ihan Petran asunnon vastapäätä, joten päästiin helposti liikkeelle. Eka haaste oli mennä Barcelonan pääkatua, La Ramblaa pitkin autojen seassa pyörillä. Hengissä selvittiin ja oltiinkin tosi nopeesti rannalla, kävellen sama matka taittuu puolessa tunnissa.
Last Friday Petra and I did something unforgettable: we rent bikes and biked to the beach. Bike rental is just next to the place where Petra lives. The first challenge in our trip was to cyckle in the middle of the traffic on La Rambla, the main street of Barcelona. Thank god we did it great and in a minute were on the beach.
Meillä oli hyvät lähtömusat, kun lähettiin rannalta.
For starters we enjoyed good music.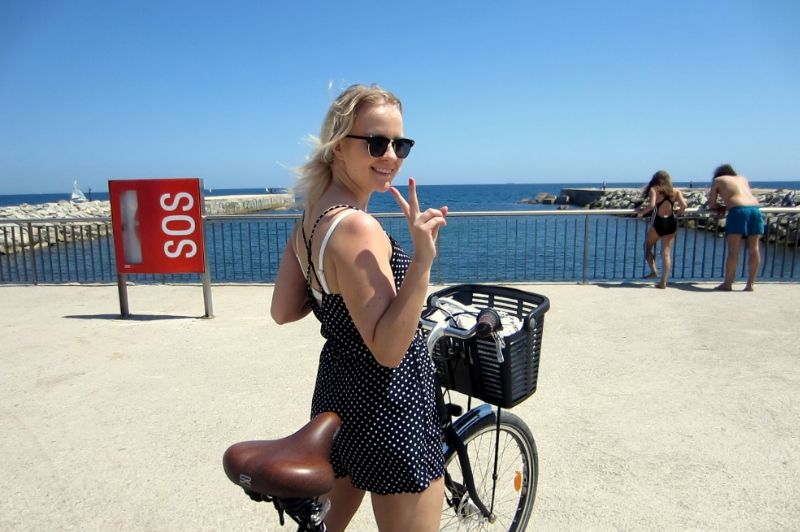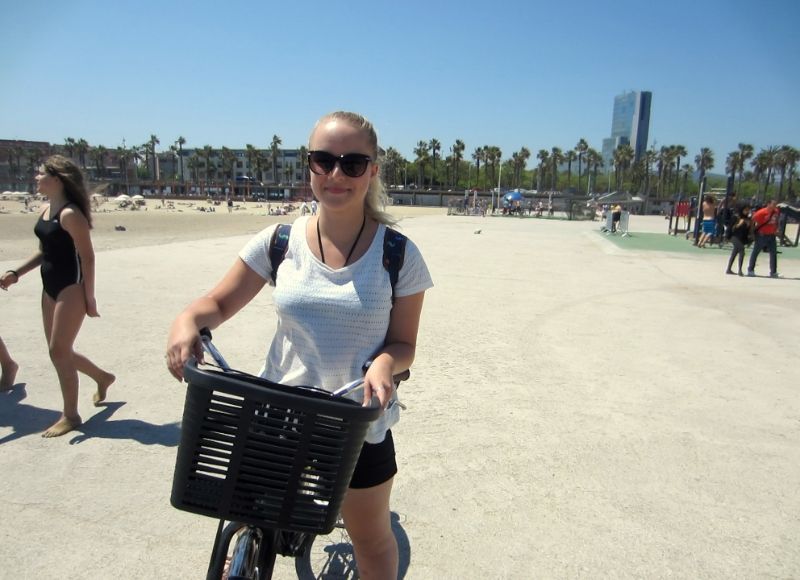 Käytiin vielä moikkaamassa Petran kaveria Fabienia rannalla, ennen kuin lähdettiin.
Before we left, we went to say hello to Petra's friend Fabien.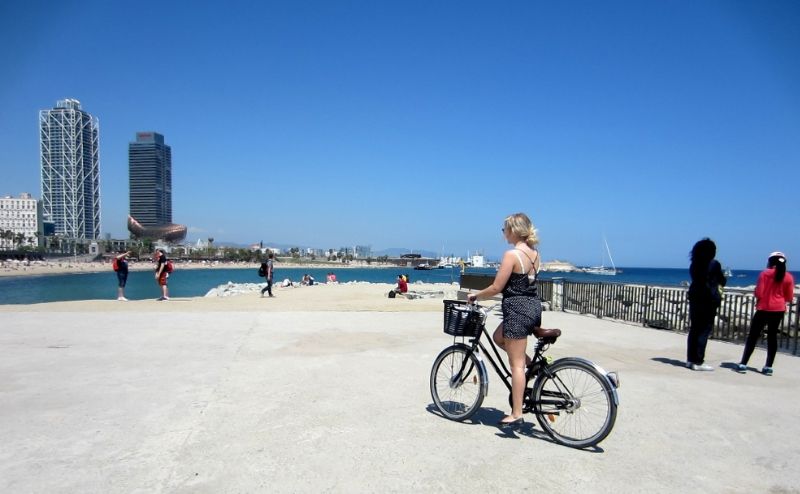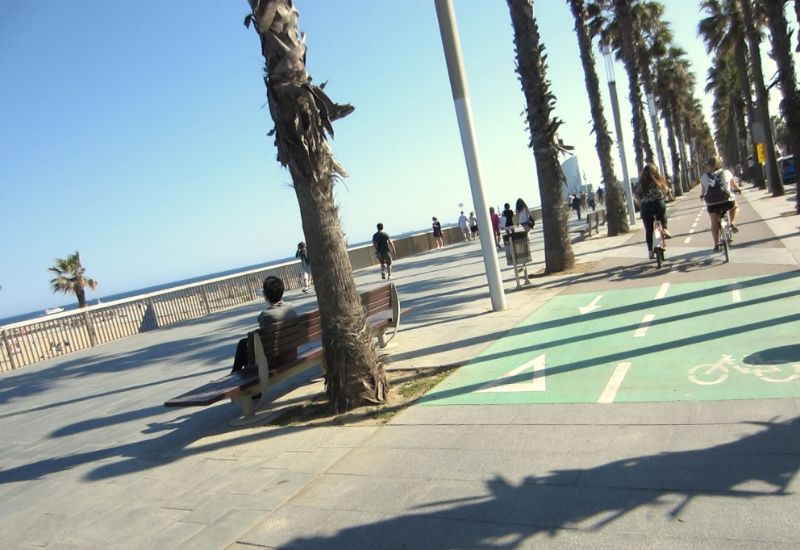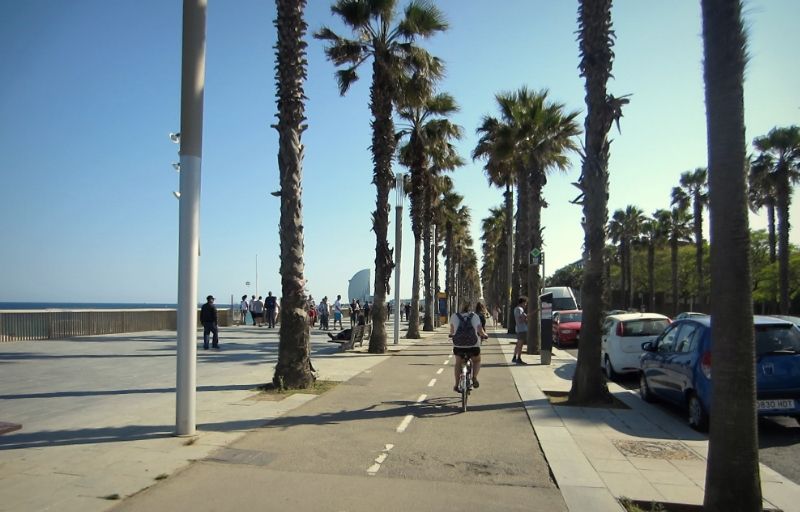 Meidän oli tarkoitus ajaa Badalonaan, joka sijaitsee 10km Barcelonasta, mutta kun ylitettiin silta, johon päättyi Barcelona, alkoi hoodit olla sellasta teollista ja vähän epämääräistä, joten käännyttiin suosiolla takaisin. Tulomatkalla poikettiin vähän syrjäisemmällä rannalla, jossa sai rauhassa keräillä simpukoita ja loikoilla muutamaa ''bieeeer serveessaa'' kauppiasta lukuunottamatta.
We were plannig to cycle all the way to Badalona (10km from Barcelona) but when we crossed the bridge on Barcelonas border we found ourselves in very scary neighbourhood and turned back. On our way back we found a beach which was not growded and I collected seashells while Petra was taking a nap.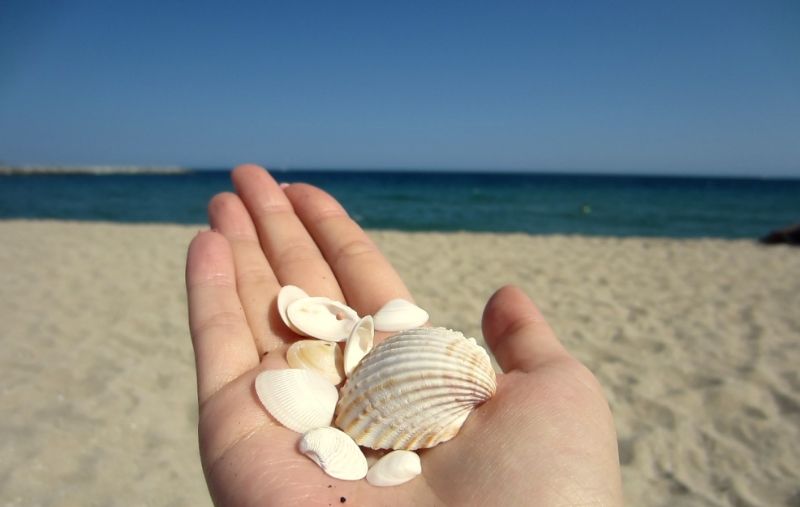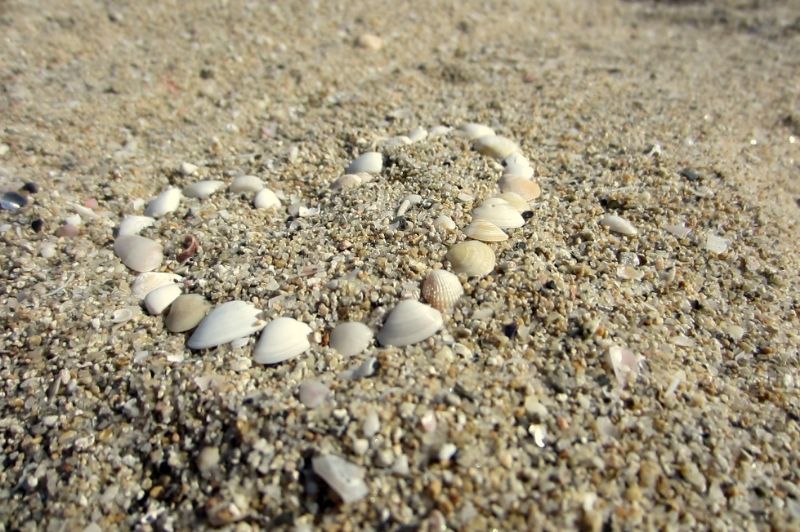 Oon vieläkin ihan fiiliksissä tosta päivästä ja mun mielestä ehdottomasti paras kokemus Barcelonan reissusta oli tää pyörien vuokraus. Rantaa pitkin kulkevat pyörätiet on selkeäti merkitty maahan ja vaan rannan alkupäässä täytyy pujotella kävelijöitä tai soittaa kelloa niille, jotka ovat erehtyneet kävelytiestä. Rantaviivaa löytyy niin uskomattoman pitkä matka, että helposti saa kulutettua yhden päivän satulan selässä. Suosittelen ehdottomasti!
Almost a week later I'm still exited about our trip and this was definitely the best experience in Barcelona! Cycle routes are clearly marked to the ground. Only at the beginning of the beach you have to be careful of people who are walking on cyckle road but after that biking gets easier. The shoreline is so long that you can easily spend the whole day discovering the beach. I definitely recommend this!