Yksi asia, jota Samissa rakastan on spontaanius. Särkänniemireissulla Sami sai päähänsä varata pöydän Ravintola Näsineulaan meidän kuukausipäivänä ja pari viikkoa myöhemmin oltiinkin jo matkalla Turusta Tampereelle.
One thing I love about Sami is his spontaneity.
He decided to make a reservation to one of the Finland's highest towers, Näsineula restaurant. A couple weeks later we were driving two hours from Turku to Tampere.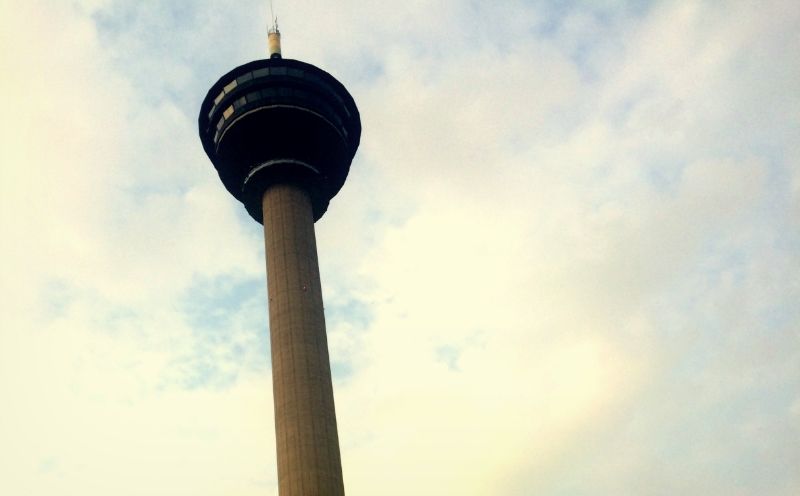 Aurinko teki meidän kanssa hyvin yhteistyötä ja saatiin ihan mieletön auringonlasku kaupan päälle.
The sun was really co-operative and showed us a beautiful sunset.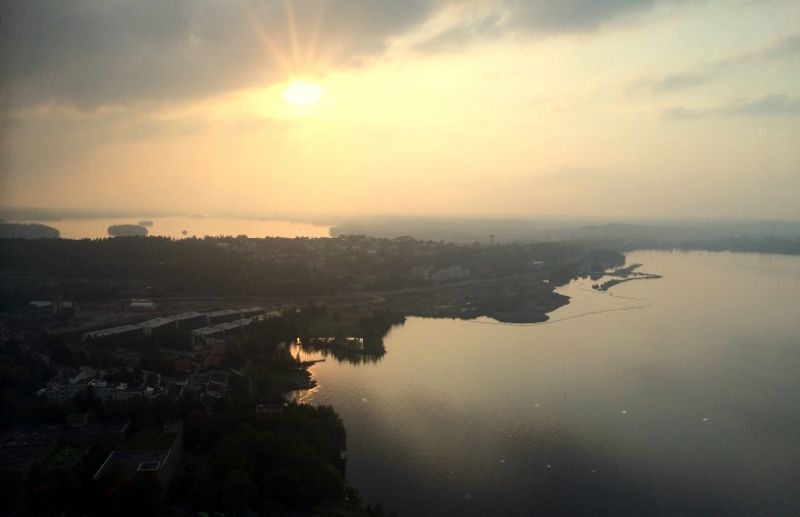 Tilattiin viiden ruokalajin Finlandia- menu, joka olikin täynnä suomalaisia herkkuja. Alkuun meille tuotiin kokin tervehdys, joka oli kurpitsakeittoa pistaasipähkinävaahdolla.
We choosed to try out Finlandia menu, which consists of incredients from Finnish cuisine. First we had a pumpkin soup topped with pistachio nut mousse.
Alkuruoaksi saatiin kevyesti suolattua siikaa, joka kuvassa on persilijapeitteen alla. Lisäksi annoksesta löytyi siianmätiä, nam!
For starters we had slightly salted white fish. In the picture it's covered with parsley.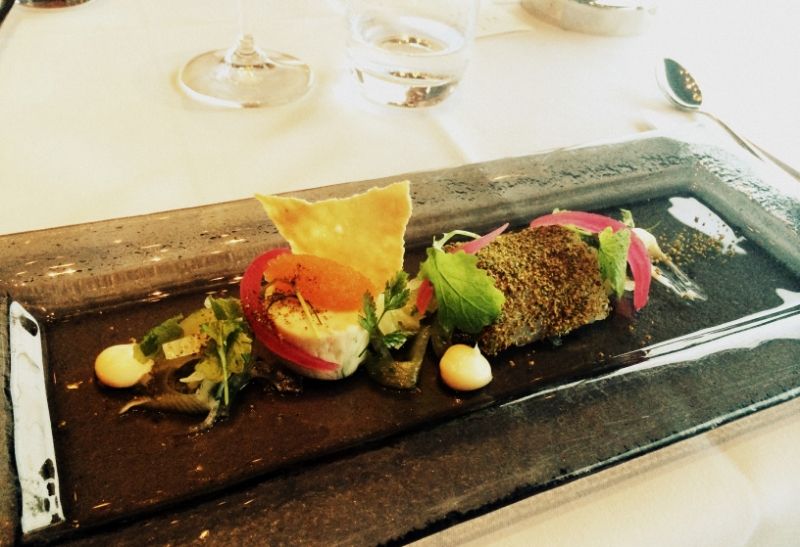 Välissä saatiin tyrnishotti lakritsivaahdolla. Vaikka alkoholi puuttui, niin shotin C-vitamiinipitoisuus ainakin iski täysin tähän naiseen!
This shot is made from sea-buckthorn berry and topped with licorice mousse. Although it was an alcohol free shot, the C-vitamin kicked in!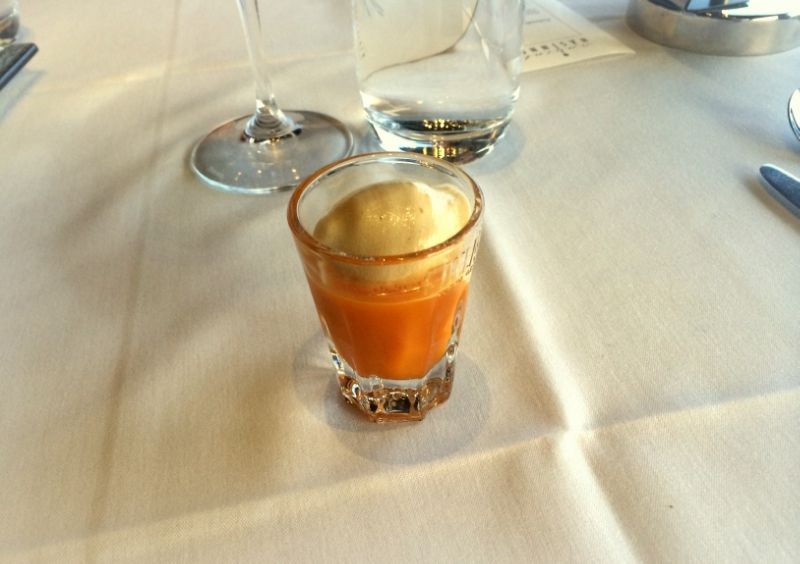 Pääruoaksi oli poron eri osia: niskaa, sisäfilettä, maksaa ja lisänä palsternakkavaahtoa. Mun lemppari tässä menussa!
For the main dish we had different parts of reindeer: neck, tenderloin and liver. My personal favourite!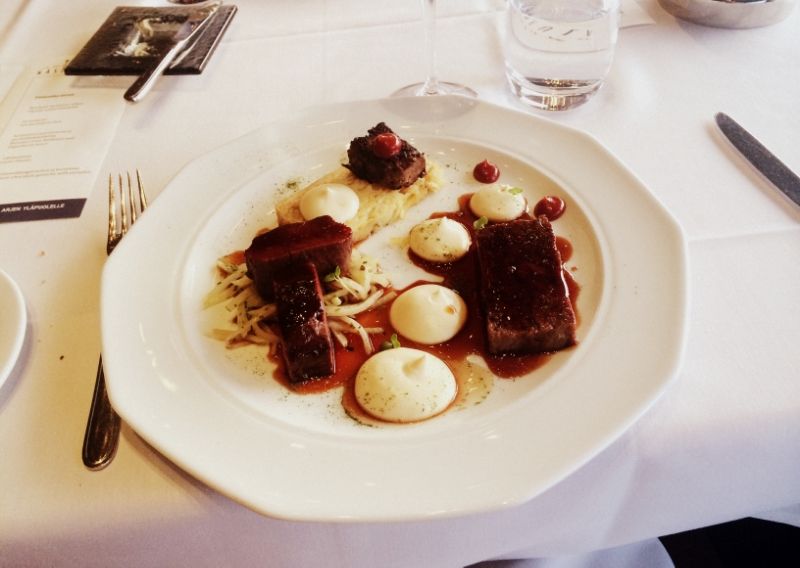 Kertooko jotain mun juustofanaattisuudesta, kun en muistanut koko kuvaa ennen kuin juustot oli jo hotkaistu? No, mennään siis jälkkäriin! Jälkiruokana oli suklaakakkua, kurpitsamoussea ja vadelmia. Parhaimman makukokemuksen sai irti, kun sekoitti kaikki keskenään ja eikun suuhun!
I can't resist a good cheese plate so what I did was that I forgot to take a picture from the cheese plate. Don't blame me! So let's continue to the dessert which was chocolate cake with pumpkin mousse and rasberries. All mixed together was a good way to taste all the flavours.
Yllätyin eniten siitä, kuinka täyttävä menu oli kokonaisuudessaan (toki asiaan voi vaikuttaa se, että söin puolet Samin juustoista...) 124 metrin korkeudessa maisemat ovat niin uskomattomat ja Näsineulan pyörivä ravintolataso teki mahdolliseksi ihailla maisemia joka kantilta. Ruoka taas aivan toinen tarina, en löydä edes sanoja kuvailemaan kuinka herkullisesta kokemuksesta oli kyse!
I was surprised how filling the whole menu is! (despite that I ate half of Sami's cheeses...) Tower Näsineula is 124 meters high and views are unforgettable! Restaurant is also spinning around the tower slowly so you can see the view from every ancle. Absolutely fantastic experience!